Our second meeting will be on Thursday, June 21th 2012 10am at the IAB (access).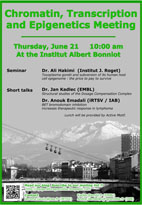 The speakers will be :
Seminar by Dr. Ali Hakimi (Institut J. Roget)
Toxoplasmagondii and subversion of its human host cell epigenome : the price to pay to survive
Short talk: Dr. Jan Kadlec (EMBL)
Structural studies on the Dosage Compensation Complex
Short talk: Dr. Anouk Emadali (iRTSV / IAB)
BET bromodomain inhibition increases therapeutic response in lymphoma
Coffee break and lunch will be provided by Active Motif, who is sponsoring our meetings.
Please help us advertise the event! The flyer can be found here.