Our first 2023 meeting will be in the Institute of Advanced Biosciences.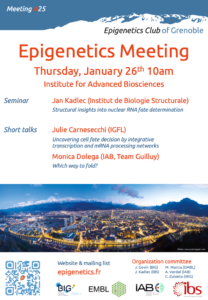 Here is the program of our next meeting:
Keynote: Jan Kadlec (Institut de Biologie Structurale). Structural insights into nuclear RNA fate determination.
Short talk 1. Julie Carnesecchi (IGFL, Lyon). Uncovering cell fate decision by integrative transcription and mRNA processing networks.
Short talk 2. Monica Dolega (IAB, Team Guilluy). Which way to fold?
The meeting will be followed by a casual buffet, as usual!